Cricut Mats – StandardGrip Cutting Mat: 3 Pack of 12×12 From Amazon
So I've been making wreaths for a couple years as gifts for friends and family, or as gifts for them to give to others. I had been going back and forth on purchasing a Cricut Maker to help with making signs for the wreaths. For most of their machines you do need specific brand Cricut Mats.
After a year of using the LightGrip Mat that came with my machine, it was time to purchase the Cricut StandardGrip mat.
What's a Cricut?
Cricut (pronounced like the bug) is an electronic cutting machine. Software installed on your phone, ipad, or computer allows you to design custom projects and cut them on a variety of materials. The materials that can be cut with the machine depends on the machine. Their website is the best to
Cricut Mats
The Cricut came with two mats, one for fabric use and the LightGrip mat mentioned above After months of using the machine, the blue mat was not cutting it for my regular vinyl usage anymore. It is perfect for light cardstock, or when I'm cutting smaller pieces of vinyl in multiple colors. Otherwise I was having to tape the vinyl on and it just became exhausting.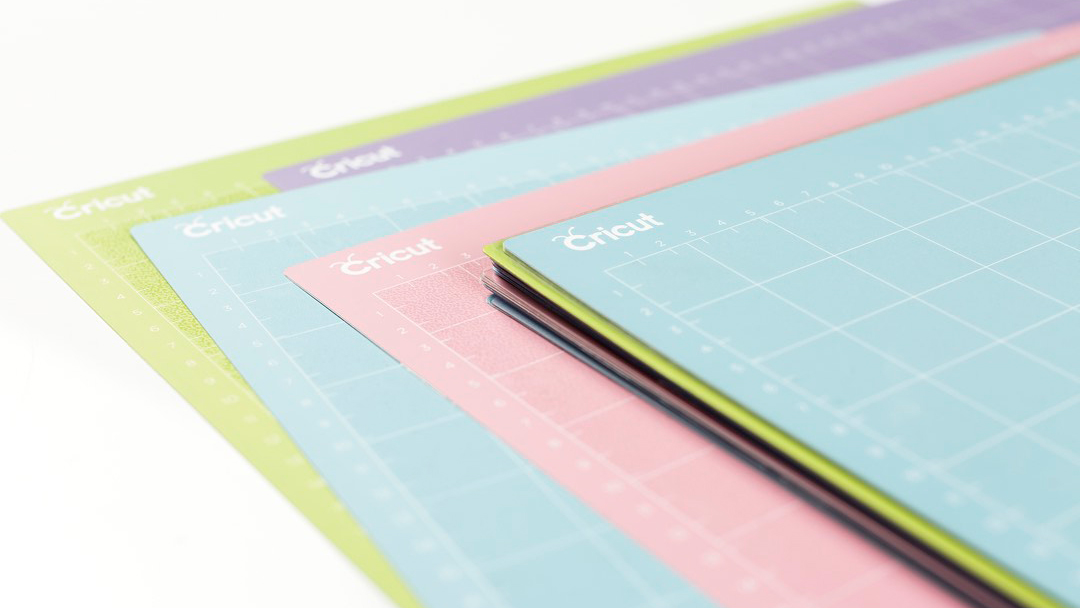 Cricut has 4 different mats.
LightGrip – Blue
StandardGrip – Green
StrongGrip – Purple
Fabric – Pink
Cricut's blog has a blog post on how to decide which mat is right for your project.
Finding Cricut Mats on Amazon
One evening I came across this 3 pack of the Cricut StandardGrip Mat on Amazon and couldn't pass up the deal. I happened to find three for less than some local stores sell one. The green is perfect for HTV and regular adhesive vinyl.
The mats arrived quickly, they were in a flat packaging so not bent or curved. I've read horror stories where people have purchased mats from third party sellers and received them bent and broken. Thankfully this was not the case.
Getting used to exactly how much stickier the StandardGrip mat is than the LightGrip mat took some time to get used to.
To anyone who received the blue mat with their machine and is transitioning to the green: be careful and have patience when removing your vinyl from the mat. You don't want anything to rip or bend. I do notice that permanent vinyl, because its the paper backing that goes on the mat, can stick a little too much and leave some of the paper behind. I'll use the least sticky of my mats at the time when working on projects with permanent vinyl to try to avoid this.
As I'm now doing more projects with cardstock paper, I'll be looking for a multipack of the Light Grip. Example of one of my recent projects below:
I've also played around with some basswood projects with my maker, which requires the StrongGrip Mat, that I don't have yet. Once I order each of these I'll be updating.
---
See more of our Craft & Hobby product reviews.
See all Reviews in our Product Review Portal.
---
Purchasing Cricut Mats
Though you can purchase Cricut Mats direct from Cricut, at your local craft store, or even your local big box store, I found mine on Amazon.
Shop products mentioned in this post and more.
Disclaimer: We may earn a small commission for our endorsement, recommendation, testimonial, and/or link to any products or services from this website. See our Privacy Policy for more.
Do you have a cricut or some other machine? What do you use it for? Would you like to see more posts on craft related products? Let us know below in the comments!
If You Liked This Post
Here are some other products we think you may enjoy!
---
Connect with us on Social Media
---