Receipt Hog: Scan Your Receipts and Earn Rewards
Receipt Hog is another cash back app that rewards you for scanning receipts for every day purchases.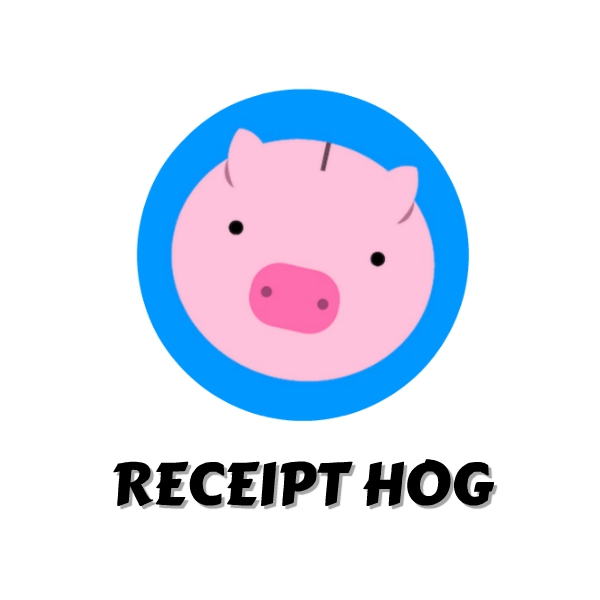 What is Receipt Hog?
Like Ibotta and Checkout51, Receipt Hog gives money back from your receipts on purchases you have already made. If you're already buying these items, why not get something back? You've earned it! And for something different, unlike the above mentioned apps, you don't have to select special offers. Just scan and earn!
Like other Cashback Apps, think of Receipt Hog as similar to a consumer research study. You are submitting your receipts and in exchange they reward you with coins which you can gather to redeem for rewards.
How Can You Earn Coins?
There are multiple ways to earn coins with Receipt Hog. The most important thing to do is to scan your receipts. That's how you'll access all the other coin earning features of this app.
When you launch the Receipt Hog app, you will be brought to the main screen. This screen lets you know your coin balance, connected accounts, slots available, bonuses earned, and Sweepstakes entries. You can also see what level you are on, see notifications, and your settings.
Scanning Receipts
You'll notice a camera at the bottom of the main screen.
The camera opens up so you can snap a picture of your receipt. Receipt Hog will then process that receipt and reward you.
Receipt Hog accepts pretty much any receipt for purchased goods. They accept receipts from Supermarkets, Convenience Stores, Mom/Pop shops and bodegas and more. The amount of coins you earn depends on the receipt total.
Under $10 earns 5 coins
$10-$50 earns 10 coins
$50-$100 earns 15 coins
Over $100 earns 20 coins
They do not accept hand written receipts, receipts older than 2 weeks, service invoices and a few others. You'll want to check all that out before you scan your first receipt.
You can view all of your recently scanned receipts and what they've earned by accessing the Receipts tab located at the bottom of the main screen. (Not pictured.)
You'll see in the screen that it appears one of my receipts wasn't processed. "Missing Transaction Date" is listed instead of store name.
When selected to look further, the next screen gives more information. The app was unable to see when I shopped, plus there may be other issues.
You can then review the receipt and report any error on behalf of the app if applicable.
You'll see that's not the case here. Apparently I moved just a bit while scanning the receipt. This made the image blurry and unreadable. The answer to this is to just rescan this particular receipt. Make sure when capturing your receipts that you have a dark surface under the receipt for contrast. Also make sure to hold steady so this doesn't happen.
Leveling Up
Uploading more receipts more often allows you to access different levels on the app. You are rewarded each time you level up, and you receive more bonuses. That's about as much as I've noticed so far. I'm not sure how many receipts are needed in order to level up. If you know how many receipts per level, please comment below!
I'm on level 18 currently. When I level up to level 19 shortly, I'll receive a reward of 275 coins. This reward will be helpful in my pursuit of rewards. From what I can see the highest level achievable is 40.
Hog Slots
Hog Slots are another way to earn coins with the Receipt Hog app.
You can earn slot spins by uploading receipts to the app from clothing stores, home improvement stores, electronic stores, and more. You'll also receive slots as a bonus, to be explained below.
You can spin the slots at any time. Some may spin them as soon as they receive them, I go about a different route. Because I keep a spreadsheet with my earnings from each app, I spin at the end of every month. I chose this route so I can see all the spins at once, and what coins are earned. This makes updating the spreadsheet easier as well. I can just enter the amount earned via slot spins in under my Receipt Hog column.
As you can see from this screenshot of the Slot Screen, I currently have 2,597 coins. I also have earned 11 slot spins this month. The Prizes screen was mid change when I snapped this screenshot. It loads quite quickly.
Like the slot games from casinos, the goal is to match three images. Prizes range from 2 coins (3 oranges) to 2000 coins (3 bacon strips). But you can earn more than coins! You can earn $100 if you match 3 hogs, or be the daily trip winner with 3 receipts. One lucky winner per day receives the amount of their last receipt. I've haven't won that…yet.
This is a nice extra the app offers and gives a few coins with a fun game. A nice feature.
Bonuses
You're eligible for bonuses every week you upload at least one receipt. Easy!
Receipt Hog splits the month up into 4 weeks, not following whatever the calendar says. Week 1 is the 1st-7th of the month. The 8th-14th, 15th-21st, and 22nd-end of the month make up Weeks 2, 3, and 4 respectively.
As you level up in the app, your weekly bonuses will increase.
As mentioned above, I'm on level 18. At this level I receive 2 slot spins on Weeks 1 and 2 for uploading receipts. Week 3 I'll receive 3 more slot spins. If I make it to week 4, I receive 8 slot spins.
To make sure I get my bonuses each month, we keep all receipts yet to be scanned on the kitchen island. I take time every few days to scan each receipt with each of the cash back apps I use. I also keep a spreadsheet to keep track of what I'm making from each app from month to month. This spreadsheet helped me with my 6 month review and one year review of cash back apps I've been using.
Sweepstakes
You earn 1 Sweepstakes Entry for every receipt you scan in the Hog Receipts app. Winners are chosen at random every month. 5 Top Winners will receive 5000 coins, 500 winners will receive 200 coins, and 5,000 other winners will receive 20 coins. I've won the 20 coins prize a few times, but that's it.
Connect Programs
Since they're part of a research company, they are interested in purchasing habits of users. Part of that is the option of the user to connect selected shopping programs and their email to the app.
As you can see, the options are Amazon, Kroger, and Email. I have opted for 2/3 of the programs.
---
Be sure to check out our other Money posts and see how you can make your money work for you!
---
To connect your Amazon and Kroger accounts, simply log in via the Receipt Hog app. They will verify your log in, and you'll receive a one time reward of 36 coins. But, every month, you'll also receive 5 sweepstakes entries as a thank you.
Email connection works the same way but with different rewards. Originally my email provider wasn't eligible to connect. It has since become eligible, but I have opted not to connect at this time.
---
Redeeming Rewards
As with all other cash back apps, at one point you'll have the ability to cash in for rewards. Receipt Hog pays out via Amazon Gift Cards, Visa Gift Cards, or directly to your PayPal account. PayPal is my preferred option. Though an Amazon Gift Card is basically like cash in this house, we order so often anyway.
For all three redemption options, cash out amounts are available as such:
$5: 1,000 Coins
$15: 2,900 Coins
$25: 4,300 Coins
$40: 6,500 Coins
If my calculations are correct, this values the coins at 1/2 cent each for the $5, $15, and $25 cash outs. The $40 cash out makes the coins equal to about .6 cents. So obviously you're not becoming a millionaire in a month doing this. The journey is slow, but scanning each receipt takes up a few seconds of your day. And eventually, you'll have some spending money.
How Can I Join Receipt Hog?
The app is available for both Iphone and Android. Sign up with our code, and you'll earn 5 hog slot spins upon upload of your first eligible receipt (referral link). And as a thank you I'll receive some spins too. If prompted for a referral code upon signup and the link doesn't automatically fill it in, use code yed98018 to get your bonus spins.
Similar Apps
If you like the idea of scanning without having to select any specific offers, check out these apps as well:
Final Thoughts
As I said above, this isn't a get rich quick idea. No cash back app is. But if you decide to use some of these apps, with a little bit of time each week, you may be able to build up some extra money for Holiday shopping by this time next year. Give it a try, what have you got to lose?
Let us know in the comments if you use Receipt Hog, if you've sign up, or what apps you're currently using! (Any referral code comments will be deleted.)
---
---
Connect with us on Social Media
---