Save on Purchases All Year!
The holiday season is upon us, and this is the time of year most people do the majority of their gift purchases. Add to that holiday party and meal items, holiday related decor, and that New Year's Eve outfit. If the thought of spending all that money in the coming weeks makes your head spin, then keep reading, we will help you save on purchases this holiday season and all year long!
In this post we will discuss:
Coupons
Retailer Loyalty Programs
Cash Back Apps/Websites
Comparison Shopping
Monitoring Sales and Planning Ahead
Saving on Holiday Party Outfits
Credit Card Rewards and Deals
Make Your Own Gifts!
---
Be sure to check out our other Money posts and see how you can make your money work for you!
---
Coupons!
Obviously we all know about coupons. In a digital age, paper coupons are much less frequent, and that's not a terrible thing. Who wants to spend time cutting out all those little pieces of paper? This isn't "Extreme Couponing". While I commend these people and even clipped coupons myself back in the day, I just don't have the time or patience. Unfamiliar with the concept of the extreme coupon user? Check out this clip from the channel TLC with some of the most extreme couponers of all time!:
My problem with this is that you rarely see coupons for fresh produce and meat or real fruit juice, they're mostly for highly processed foods and sodas. This may be a cheaper way of eating but is not an easily sustainable diet and will lead to health problems down the road. However, if you do come across a coupon for a buy one get one free on your favorite frozen snack, use it! Just don't use 10 of them. (Full disclosure do what you want obviously.)
Site/App Coupons
Now you can click on coupons right on the website or within the retailer's app and add them to your account to scan at checkout. I like to take my time when in Target for instance. I'll scan each item using their app and make sure I add on any Target Circle deals. Target Circle is a rewards program for customers which offers deals on specific items at specific times. Find out more about how the program works here. They also offer a 5% off total purchase (limitations apply) birthday deal that's good for 30 days after your birthday, so be sure to include your birth date in your profile!
Sign Up for Discounts!
This is the time of year you're going to receive the most coupons via mail out of the entire year. Don't just toss them, take a good look and see how you can save on various purchases.
This is also the time of year to take advantage of email subscriber emails. Go through your spam/junk folder (where we normally recommend you send these), and see what discounts are available to you at this time. If you aren't an email subscriber yet, now is the time! Most retailers offer a big discount on your first purchase after signing up for email alerts!
Promo Codes are King!
Before making a purchase, search for coupons or promo codes online. You can often find them on the retailer's website or through a quick search. Shutterfly and Michaels are two sites I frequently will use promo codes for while making purchases. I've saved SO MUCH doing this over the years. Retail Me Not often has decent promo codes. Note not all work, you have to just enter them and try.
Save on Purchases with Retailer Loyalty Programs
Most retailers have an app that you can sign up for to keep track of orders and earn points on purchases. Michaels allows you to earn points towards vouchers you can use on future purchases. Or you can earn discounts just by being a rewards member with a retailer.
There are other ways to save on purchases with retailer programs!
When I was in college, around Thanksgiving the local grocery chain always ran a free turkey or family size lasagna dinner promotion. Purchase enough to earn points by a certain date using your loyalty card, and you can earn one of the free meal items.
Our group of friends had planned a Friendsgiving before going home to our families for the holiday weekend. Participating in this Friendsgiving was my roommate and I plus the apartment of 4 across the hall and some other friends from other apartments. From the day that promotion started, my roommate and I did our grocery shopping with two friends from another apartment. The apartment across the hall did all their shopping together as well. Why? Because we each used a loyalty card for each big shopping haul.
We were able to purchase enough, being sure to include all of our other Friendsgiving meal purchases and taking advantage of those sales, to get both the Turkey and Lasagna meals!
For 20-22 year olds we did pretty good with this meal. This wasn't all of it, just what we could fit on the main table, there was plenty more on the counters.
Cash Back Apps/Websites
If you're already using cash back apps, then you know that you can still save (earn money back) post purchase! Keep up the work saver! If you have been earning cash back all year, now is the time to cash out those gift cards! If you are cashing out for holiday purchases how much did you cash out? Let us know in the comments!
If you're unfamiliar, then we've got the details you need on a variety of cash back apps and websites! I'm going to mention a few below to help you get started.
If you're shopping online you'll want to see which cash back deal is best. The answer to that is Cash Back Monitor. Simply search the retailer you plan to shop and they'll bring up a list of which sites/apps will give you the most back for your purchase. Shop through portals like Rakuten, Groupon, Top Cash Back, and even Ibotta to get money back for every dollar spent on your purchase with major retailers like Best Buy, Amazon, and more!
Here are some we've already reviewed and explained:
Also – did you know Ibotta has a browser plugin? They'll see when you're shopping at a participating retailer and alert you to your cash back possibilities! We've gotten so much back just from seeing these simple reminders! Just another reason to shop with Ibotta today! Learn more about this company here!
Don't Be Afraid to Comparison Shop
Comparison shop: Don't settle for the first price you see. Whether you shop online or in-store you're entitled to find the best deal! Each store has different policies on price matching, so if in store, you're best off looking at that particular retailer's price matching policy on their website.
We prefer to do this online. Depending on what I'm purchasing, I may even with with a notepad and paper next to me. Looking at the base price of an item isn't the only comparison you need to make. Do you have a credit or debit card with any of the retailers that may earn you more even if the base price of the item is more at that store? Does your card earn you a discount before purchase? Are there shipping fees involved? Do you get more for bulk purchases from some retailers (if that is what you need)? Make notes of all fees and taxes and see which purchase option is best for you.
Always check Cashback Monitor before you go to make a purchase online and see which credit cards or shopping portals will give you the most back!
Monitoring Sales and Planning Ahead
The holiday season is a time for giving, but it can also be a time of financial stress. However, with a little planning, you can save money on holiday gifts. One of the best ways to do this is by planning your shopping ahead of time. Most people wait for sales to make bigger purchases, obviously, but there is a lot to be learned in keeping track of when those items go on sale.
Start Your Planning
Get a pen and paper out, or start a note in your phone, if you don't do this already.
Start by making a list of everyone you plan to shop for.
Set a budget for each person.
Write down some gift ideas for each person.
Purchase Early and Store in a Bin
Have a coworker you exchange with who loves their morning Dunkin Donuts stop? You can grab that gift card and a new travel mug in July!
You're surprising your family with a trip to a warmer climate this coming winter and you'll be announcing this on Christmas morning. As you see summer clothing, swimsuits, brand new beach towels, sandals, bags, sunscreen, etc. go on sale towards the end of summer, grab them. You're going to spend a lot more time and money finding a new bathing suit in January than you are in early September. Put each person's brand new trip related gifts together and have them all open at once while you make your announcement!
Throughout the year, membership stores like Costco and Sam's Club will have gift card sales. Right now (as I write this November 2023), you can get five $20 Peet's Coffee gift cards at Costco ($100 value) for just $80. Give four away for gifts and keep one for yourself! They run these gift card sales throughout the year. Grab a few at any time, and you have them ready to go for last minute gifts. They're also running deals on Southwest and Alaska Airlines gift cards. $500 travel gift card for $449.99. Purchase earlier in the year to use on those cold weather vacations to warmer climates!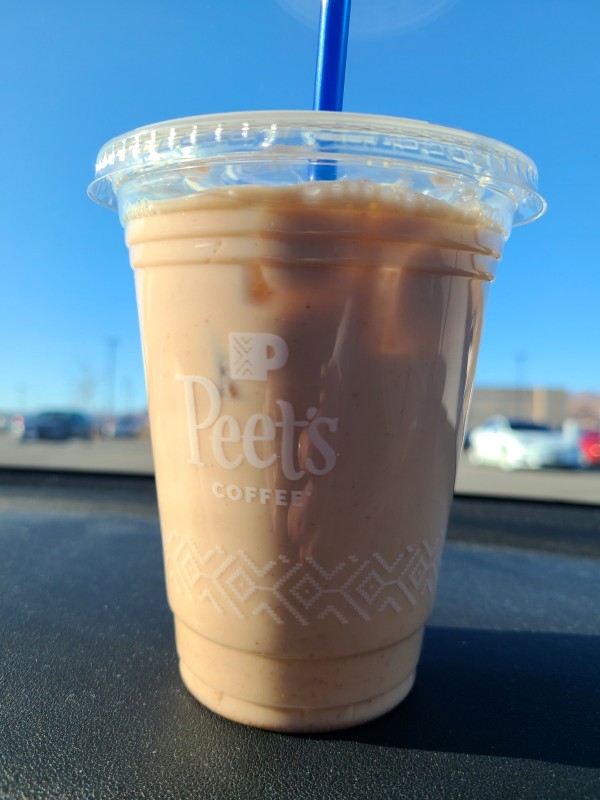 If you purchase items throughout the year, consider keeping them in a storage bin. Then add an event to your calendar for mid November or so to remind you that you even have that bin in the first place!
Plan Ahead to Save on Food Too!
When you see food you know you'll be using for the holidays go on sale, grab it. Especially if its a canned or frozen good. While this doesn't save you tons, it does save the headache of having to wonder if you have everything ready, and the hassle of having to run out last minute to grab certain items. Certain food items go on sale at certain times. Stock up on what you can all year, to make sure you have it when you need it.
Holidays aside, we are big on meal planning. My mother did it when we were growing up with anywhere from 2-4 kids home at any given time all with different schedules, so I don't really know any other way. I can't imagine having to figure out every single day what we are going to eat. This has definitely helped us save money too, because we make the ingredient list out ahead of time and grab only what we need at the store. Other than snacks, we don't impulse buy and hardly throw out any food. Plus if we are making a dish that has an ingredient that isn't used often, I'll make sure to find another recipe to use that ingredient that week or the week after so nothing goes to waste.
This goes for alcohol too. You may see sales on particular brands of wine during the year. And unless you're someone that needs that $200 vintage bottle, most of us are perfectly content with wine purchased at the grocery store. Stock up and keep these aside for last minute hostess gifts, or to serve at your own gathering.
Save on Purchases of Holiday Party Outfits
Tis the season for Holiday parties- office, friends, family, New Years…. That's going to add up outfit wise, especially if you prefer to get new outfits for each event. The type of party and the outfit required will vary of course. But you don't have to go into debt just to look good at one of the many parties you'll attend this season. Let's divide them up by recommended attire.
Casual
The look is casual, but you still want to look and feel festive. You can always check sites like Poshmark or ThredUp to see what gently used holiday or sparkly attire may be available. You never know what brands you'll find on there. The same goes for thrift stores! Use your own clothes but grab a new (to you) blazer or cardigan to accompany your outfit from the local thrift store.
Remember too that you don't need a holiday specific outfit. Shades of red and green are super popular along with basically anything sparkly. A black sweater with a sparkly belt and headband or scarf will make you look you look perfectly festive for any holiday party.
Ugly Sweater Season
Look at the sites above and your local thrift store for sure. I know a few people who have purchased outfits for these events never to wear them again and they donate them a few weeks later.
Maybe you can trade ugly sweaters with someone. Say your family has an ugly sweater party every year, and your neighbor's employer also has one. You can switch ugly sweaters one year, and you've got yourself a free outfit.
Black Tie/Dressy Events
For dressier parties, ThredUp, the thrift store, and Poshmark might work. But they probably won't be what you're looking for. A higher end consignment shop like Plato's Closet may also work. But what you may need is a more posh outfit.
Enter to the conversation: Rent the Runway, with this site you can rent an outfit and then return it. Find designer gowns and more! Memberships begin at $94/year. But you can use this membership all year, think weddings, showers, business trips, vacations, and more!
Don't go broke trying to look expensive….
If you're still not finding what you want, consider looking online for outfit inspiration. Perhaps you have some of the base layers of an outfit you love at home already and then can use one of the methods or a combination of any of the above for a particular piece or accessory.
Take Advantage of Credit Card Rewards and Deals
Use cashback or rewards programs: Many credit cards offer cashback or rewards programs that can help you save on purchases over time. Just be sure to pay off your balance in full each month to avoid interest charges.
Right now one of the deals on my AMEX card is with the UPS store. This is great for shipping holiday gifts! Spend $50 and get $10 back through the end of the year. Other deals on my card include 50% back on Dropbox (online storage), $5.99 back if you spend $5.99 monthly for three months with Peacock (which happens to be the base monthly subscription cost), 3% back with UGG, $150 back with Versace if you spend $750, and more!
See what offers your credit card offers you, and check for each card holder. Often times my deals differ from those of my husband. We are also earning 6% cash back with U.S. grocery stores this month!
Crafty? DIY!
Does everyone rave about your baking? Consider whipping up your best treats to gift to friends and neighbors this holiday season! They'll appreciate the delicious treats, especially those who don't bake at all or are constantly on the go and don't have time to bake for themselves.
Do you own a cutting machine? Consider some personalized gifts! Keychains, mugs, funny family sweaters, blankets, are all items your loved ones will treasure for years to come.
Buy refurbished or gently used items: Consider buying refurbished or gently used items instead of brand new ones. You can often find great deals on items that are still in great condition. If you don't feel comfortable doing this as a gift, consider using these items within your holiday decor! What can you make to create a holiday scene and make the item look new again?
Save on Purchases! Final Thoughts
This was A LOT. But we want you to save on purchases as much as possible this holiday season and all year long!
So whether you're using promo codes, customer loyalty programs, keeping an eye on sales throughout the year, shopping second hand, or some combination of all methods, you're heading in the right direction!
In conclusion, planning your holiday shopping ahead of time can help you save money on gifts. By making a list, setting a budget, shopping early, looking for sales and discounts, making homemade gifts, and using coupons, you can give thoughtful gifts without breaking the bank.
---
Connect with us on Social Media
---